ORAL SURGERY DISSECTED: ORTHOGNATHIC SURGERY, TMD and OBSTRUCIVE SLEEP APNEA EXAMINED
Maxillomandibular Advancement Surgery in Treatment of Moderate to Severe Obstructive Sleep Apnea
Maxillomandibular advancement surgery (MMA) is an alternative treatment for moderate to severe OSA in patients unable or unwilling to adhere to the gold standard CPAP therapy. MMA reduces pharyngeal collapsibility, helping to reduce AHI and sleep fragmentation. It is well established that MMA is the most effective surgical treatment in resolving OSA with reported success rates of 85-91%. Furthermore there is evidence that MMA surgery provides significant further improvements beyond successful CPAP and Mandibular Advancement Therapy (MAD).
However, there is a need for patient specific and individualized approach to treatment of OSA, as treatment success varies amongst patients.  Successful MAD treatment can be a positive predictor of success for MMA surgery.
Dr. Meisami will discuss the use of MAD and DISE (Drug Induced Sleep Endoscopy) as diagnostic tools prior to MMA surgery to guide in predicting treatment success and potentially eliminating patients who would ultimately not benefit from MMA surgery.
Objectives:
Review the Evidence in MMA surgery success in treatment of OSA
Understand the vital role OMFS and Orthodontists play in surgical management of OSA
Distinguish the differences between MMA surgery and Orthognathic surgery: indications, patient selection, treatment objectives and sequence
Understand the use of diagnostic tools such as MAD and DISE in predicting success in MMA surgery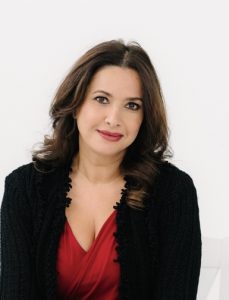 Tina Meisami BSc, DDS, FRCDC, ABDSM
Oral & Maxillofacial Surgeon
Staff Surgeon:  North York General Hospital
Director of Dental Sleep Medicine, Department of Dentistry, University Health Network, Toronto Rehab Institute
Dr. Meisami is an Oral and Maxillofacial Surgeon. She completed her surgical residency at University of Toronto in 2001 and a fellowship in Orthognathic Surgery in with Professor Johan Reyneke in Johannesburg in 2002.  Over the past 20 years of her practice in Toronto, she has been committed to teaching and mentorship, achieving excellence in the surgical treatment of her patients, and community service for betterment of women's lives in marginalized populations.
Dr. Meisami is the director of Sleep Medicine at University Health Network: The Toronto Rehabilitation Institute Division of Dentistry. She is board certified with the American Board of Dental Sleep Medicine. Her interest in Sleep Medicine arose from a combined interest in airway management in anaesthesia and surgical treatment of skeletal facial deformities. Her current research focus at UHN is twofold; first, the prediction of success in maxillo-mandibular advancement surgery in the treatment of Obstructive Sleep Apnea; and second, the impact of oral appliance therapy on improvement of overall health for homeless women in the GTA.
Tina is also the Course Director for University of Toronto Continuing Education in Sleep Breathing Disorders and a frequent guest lecturer with the American Academy of Dental Sleep Medicine on the topic of Surgical Treatment Modalities for OSA.
Dr. Meisami is an Active Staff Surgeon at North York General Hospital, where she provides surgical treatment for Dentofacial Deformities and Obstructive Sleep Apnea. She also practices full scope of OMFS at her private clinic Yorkville Maxillofacial Surgery.
Dr. Meisami is the Founder and Director of Dr. Borna Meisami Commemorative Foundation a non-profit charitable organization in honor of her late brother.  The foundation provides free facial and dental reconstruction, as well as treatment of obstructive sleep apnea for survivors of gender based violence living in shelters in Ontario. To date the organization which includes a consortium of 40 dentists and physicians; has provided over a million dollars in free treatment over the past 12 years.
Advanced TMJ Surgery. The State of the Art.
This lecture will illustrate the spectrum of current algorithms used to treat TMJ surgical problems. The pathobiological rational will be stressed. Newer minimally invasive ortho-biological treatments will be presented.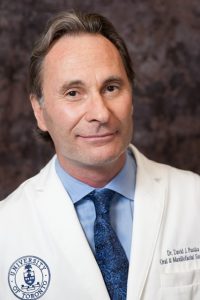 Dr. David Psutka is a specialist in oral and maxillofacial surgery.  He is a graduate of Dentistry and Oral and Maxillofacial surgery from the University of Toronto.
He is founder of Fountain View Oral, Facial and Implant Surgery in Mississauga where he has practiced for 38 years.
Hi is an assistant professor at the University of Toronto, Faculty of Dentistry where he teaches in the graduate Oral and Maxillofacial Surgery program.
He is a cofounder and senior surgeon at the Mount Sinai Hospital Centre for Excellence in TMJ Reconstructive Surgery, established in 1995.
He is the co-director of the University of Toronto Fellowship Program in Advanced TMJ and orthognathic Surgery.
He is an attending surgeon at Trillium Health Partners and The Sinai Health System hospitals.
Dr. Psutka has presented over 150 lectures and publications. He has lectured, taught and, demonstrated surgery across North America, Europe and Australia.
He has held numerous portfolios in organized dentistry.  He was a member of the ad hoc committee struck by the RCDSO Quality Assurance Committee to update the Guidelines for Implant Treatment.
He received the Ontario Dental Association Service award in 2009.
He received the Canadian Association of Oral and Maxillofacial Surgeons Distinguished Service Award in 2021
---
Current Advances in Orthognathic Surgery: presurgical orthodontic recommendations, virtual planning, rigid fixation, clear aligner strategies.
Dr. Marco F. Caminiti
BSc., DDS., MEd., Dip OMFS, FRCD(C), FACD
Dr. Caminiti is originally from Montreal and went to McGill University for Undergraduate studies in Anatomy and then completed his dental studies.  He was in the Canadian Armed Forces and served in the United Nations. He came to Toronto for his residency in Oral and Maxillofacial Surgery. After residency he was a Surgical Education Fellow in the division of Surgery at the University of Toronto. He continued as the Walter Lorenz Fellow in Orthognathic Surgery in the Division of OMFS at the Toronto General Hospital.
Marco currently is:
Assistant Professor, Head and Program Director of Oral and Maxillofacial Surgery at the University of Toronto.
Head of OMFS at Humber River Hospital.
Surgical Director at the Cleft Lip Palate Program at Holland Bloorview Kids Rehabilitation Hospital.
Chef de Mission, Face the Future Foundation; Addis Ababa.
Dr. Caminiti's practice is focused on surgical orthodontic and virtual planning for the management of patients with facial deformities. His research focus is on the development and assessment of surgical skills.
---
Oral Appliances, MARPE and Non-Surgical Management of the OSA/TMD Patient
Dr. Stephen Ho
DDS., MSc., FRCD(C), FADSA | CVOS Oral Surgery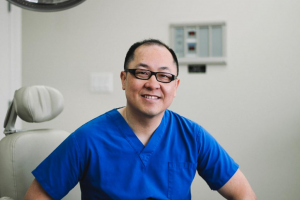 This lecture will start with a review of the current generation of mandibular repositioning devices for OSA management. Upon this foundation we will then touch upon the evidence for evolving therapies such a Mini Screw Rapid Palatal Expansion in adults (MARPE). Finally, the overlap between the OSA and the TMD patient will also be addressed using non-surgical modalities.
Learning Objectives: At the conclusion of the lecture, participants should:
Discuss positive indictors for oral appliance therapy

Understand the different generations of oral appliances and

the current innovations

Know what current titration strategies exist for oral

appliance therapy

Understand the principles and evidence for MARPE 

Discuss the treatment planning for the OSA/TMD patient
Dr. Ho completed his dental training at the University of Toronto. He then completed a hospital dental residency jointly at the University of Illinois at Chicago and the University of Chicago. Dr. Ho returned to the University of Toronto for his specialty training in Oral and Maxillofacial Surgery and Anesthesia. Dr. Ho has taken post-graduate medical education in Sleep Apnea Diagnosis and Treatment. Dr. Ho has focused expertise in the area of Obstructive Sleep Apnea as well as CT-based 3D treatment planning for dental implants, corrective jaw surgery and airway size determination. Dr. Ho's 3D treatment planning expertise has allowed him to participate as a lecturer and professional resource to other dental specialists performing their own surgery.
Dr. Ho founded the Airway ENT and Oral Surgery Clinic. This pioneering clinic has an interdisciplinary team of physicians, dentists, physiotherapists and chiropractors united in the treatment of the OSA and TMD patient.
Dr. Ho is the Director of Treatment for the Sleep and Alertness Clinic, the largest OHIP sleep clinic in Ontario and the first to have full dental integration.
Dr. Ho has been focused on digital business transformation as a mentor within his own OMFS clinical organizations and also as a resource for other clinicians wishing to integrate digital workflows in implantology, full arch conversions and TMD/OSA treatment. Many of these transformations are powered by software planning services by Maxfacs Imaging Tech and digital workflow software created by 2Nimbus Inc.